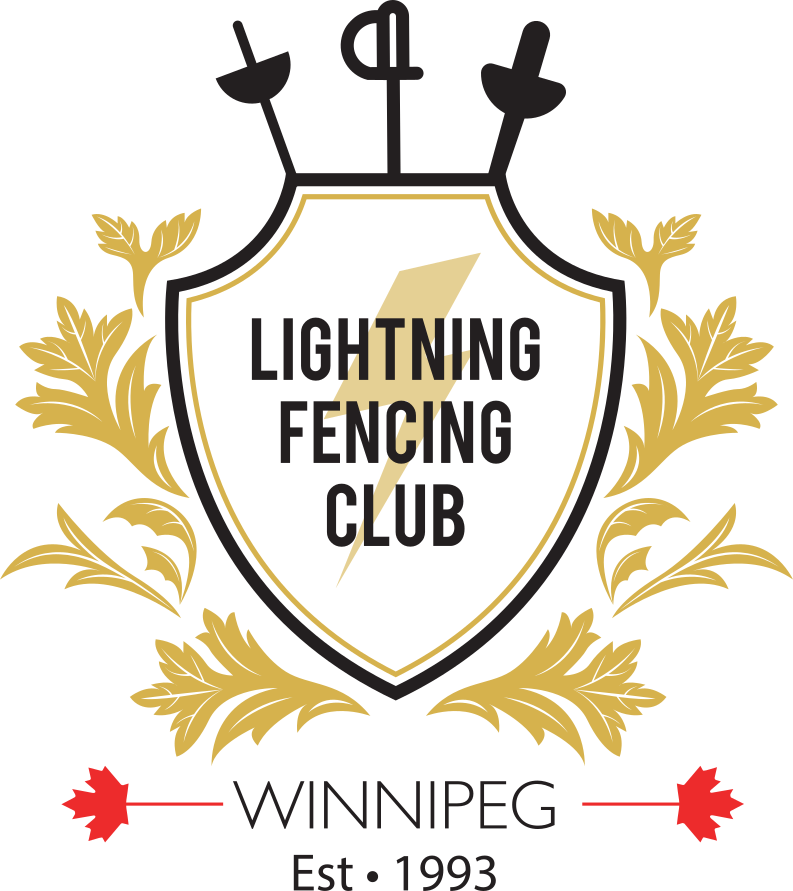 ***************************************************************************
ATTENTION: Please log-in to the CFF website to register with the CFF and the MFA.

The registration for the 2017 - 2018 season is now ready for the new season.

If you do not have an account, please create one.
Those members who were registered by the club may have us do it again for the new season.
If you want to do it yourself, contact us for the log in information.


2017 - 2018 Registration Instructions and Fee Schedule
Fees are payable in two parts.
PART 1

The required Association fees are payable on-line via credit card.
All registered fencers in Manitoba are required to submit these fees.

Please go to

http://fencing.ca/purchase-a-cff-licence/

to log in or to create an account and follow directions.

GO HERE FOR LIGHTNING REGISTRATION INFO AND FORMS.

NOTE: This information and fees are subject to change prior to the club Open House.
LIGHTNING FENCING CLUB
FEE SCHEDULE for 2017 – 2018 FENCING PARTICIPATION
Membership Category CFF FEE MFA FEE CLUB FEE
Regular Membership

$22.50

$130.00

$240.00 ($205.00*)

Special Intro

10 week Program

$22.50

$50.00

$168.00 ($145.00*)

Upgrade to Full

-------

$80.00

$75.00

Associate Member

$22.50

$25.00

-------
*Bracketed figures are the buddy OR equipment discount.
FEE TOTALS (CFF+MFA+Club)
Regular Membership

$392.50

Special Intro

10 week Program

$240.50

Upgrade to Full

$155.00

Associate Member

$47.50
Note: for accounting simplicity, we reserve the right to round up to the nearest $5.00
The CFF and MFA fees are payable via a secure on-line transaction server that accepts major credit cards.
Club fees are payable to Lightning Fencing Club by cheque or money order.
Cash is also accepted but is not the preferred method of payment.
A CFF/MFA receipt will be sent to the email address that was entered during the on-line registration process.
Please keep a copy of this receipt for your records, and submit a copy of the receipt to Lightning Fencing Club, as proof of registration.
PART 2
Complete the club registration documents and return them to the club along with the club fee.
Club registration forms are in fillable PDF format.
Please fill them out on a computer, print them and submit them to the club.
Club fees are payable by cash, cheque, money order etc.


Lightning Buddy Discount:

When 2 or more people register together (ex: friends, family members)
Lightning offers a discount on the CLUB portion of the fee for each person.

Intro program discounted club fee is: $145.00
Regular season discounted club fee is: $205.00

Lightning Equipment Discount:

If you happen to have and use at least two pieces of your own safe and useable fencing gear (glove not included), the above discounts would apply.
This would be any two items from this list: mask, jacket, sword, chest protector, body cord.

Restrictions:
1)One discount type per registration (either buddy discount OR equipment discount)
2)No discount on the club upgrade fee



The Lightning Fencing Club provides the necessary fencing gear for new members to use at no cost.
You do not have to buy++ anything to learn to fence. However, if you wish, you can buy your own equipment
from local sellers or via the many companies that sell on-line.


Note: Fencing gear is provided to registered Lightning Fencing Club members during participation
in Lightning fencing programs. This gear is owned by Lightning and is available to participants for
the duration of their current membership. All loaned gear remains the property of Lightning Fencing Club

++LIGHTNING FENCING CLUB reserves the right to require all participants to purchase their own basic fencing glove. ($15-20)

RECEIPTS for club fees will be issued upon receipt of any payment, upon request.
Receipts will be provided to the person who fills in the registration form for the minor child.

Legend:
CFF : Canadian Fencing Federation
LFC : Lightning Fencing Club
MFA : Manitoba Fencing Association
FIE : FEDERATION INTERNATIONALE D'ESCRIME (International Governing Organization for Fencing)



Alan McCracken

August 24th, 2017



NOTE: This information and fees are subject to change.



Go back to LIGHTNING HOME PAGE